Spoiled Customers are Happy Customers.
Thanks to the Amazon Effect, the Pampered Consumer is now just a code name for every consumer. But let's start by taking a look at the Amazon Effect. As a result of the proliferation of Amazon and the colossal impact the company has had on the way consumers shop, the Amazon Effect now means that 76% of consumers expect brands to understand their individual needs.
As we discussed in a recent blog – 5 Must-Haves for 2021 Brand Strategy, brands must grasp consumer needs beyond simple data field automation techniques. For consumers, it's more than simply knowing their name or even their most recent purchase. Consumer expectations concerning personalization have increased dramatically giving rise to the term Pampered Consumer – AKA, every consumer brands sell to today.
A Gartner personalization panel indicated brands that personalized their message in a way that "Helped Customers" garnered a 16% increase in the commercial benefit index (brand intent, purchase, repurchase, increased cart size) versus a decrease of 4% in commercial benefit index for brands that simply "proved they knew their customers."
So, when it comes to the Pampered Consumer there are five key things they want. To bring those to life for you, let's take a gander at the beauty and self-care category to see exactly what consumers are looking for and how brands can deliver.
Make it easy for me


Consumers are looking for a shopping experience that's seamless and smoother than a baby's bottom. They want to start looking around on their phone, slide over to their laptop for additional info and then if they need to get out of the house for a little tech break, they'll complete their purchase instore.

One way brands (specifically those in the beauty industry) are crafting just such a consumer experience is through online quizzes. By being able to replicate human interaction, brands can learn more about their customers and give them a chance to talk about themselves. By taking advantage of the latest technologies, brands allow consumers to upload photos of themselves to help rectify pesky problems like those darn dark circles under your eyes. Suddenly, an online consultation makes the shopping experience easier for the customer by replicating the instore experience.
Convince me


As consumer skepticism continues to grow, the more consumers look to third-party sources to back up what brands are saying about themselves. Specifically, consumers are leaning on product reviews as well as the experiences and thoughts of influencers plus family and friends to help formulate their opinion of the brand or product they're interested in.

The beauty industry is onto the importance of these reviews – understanding both their illustrious power and natural limitations. As a result, site administrators need to keep a close eye out for over-the-top negative reviews or in social communities when users put a brand on blast.

Now when it comes to User Generated Content (UGC), reviews are a great way to allow customers to showcase products in real life, using real customers – not models or celebrities. In fact, as many as 79% of consumers admit that UGC plays a significant role in influencing their purchase decisions. And along those lines, brands that can recommend reviews that are more meaningful or relevant for customers will be rewarded by hardy nods of appreciation.
Assist me


Brands now have the opportunity to help consumers by finding ways to recreate instore experiences online. And here's the good news, there are ways for brands to build the same level of trust that marketers have historically only found instore.

It's also vital brands provide consumers multiple ways to interact with them. Stats show that consumers able to connect via four or more channels with a brand show an increased engagement level of 300% over a single channel touchpoint.

Here are some quick stats on channels your brand should be exploring:

SMS – 98% read rate with 90% of messages read within 90 seconds
Live Chat – 79% of people prefer live chats because they offer instant responses.
Email Marketing – ROI is $42 for every $1 spent
Display Ads – predicted to reach $375 billion for 2021
Push Notifications – 68% opt-in rate for the e-commerce industry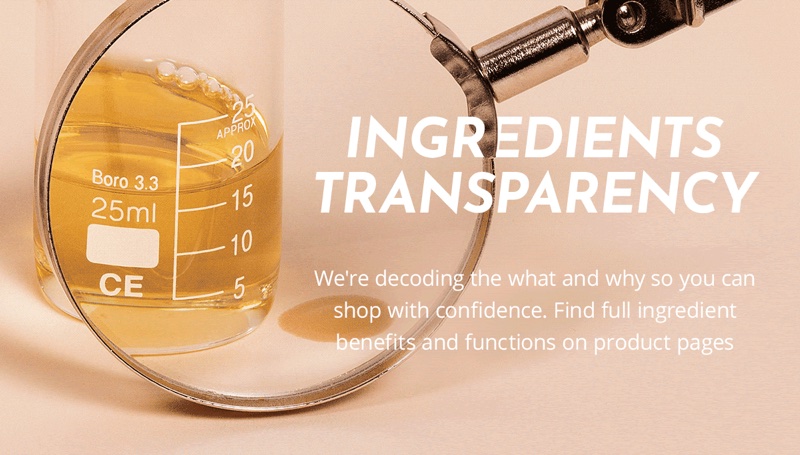 Inspire me


Not surprisingly, 2020 impacted the way consumers make decisions and how they choose to spend their dollars. Key consumer motivators that were affected were wellbeing, value, technology and our surroundings. Stress and mental health became an even greater focus of the conversation for obvious reasons as well. The definition of value became centered around purchase impact, convenience and quality. Technology has shifted the channels consumers engaged with illustrating a greater demand for more robust e-commerce strategies and true omnichannel experiences. We also witnessed consumers become more conscious purchasers with safety and efficacy going hand in hand.

We are identifying a huge opportunity for brands to connect with an ever-growing ethically conscious consumer. The beauty industry is tapping into this need by focusing on site-wide transparency, and in many cases providing customers with dedicated content that speaks to their values, what they stand for and how they can participate in their community.
Reward me


Loyalty and lifetime value are driven by compelling programs that reward consumers and treat them like VIPs. Consumers want brands that can deliver instant/in-the-moment gratification, embrace the human element and praise passion – as well as persistence.

Beyond straight-forward reward programs, customer loyalty can also be significantly amplified by brands who can prove they get the individual needs of their customers.

For beauty brands, allowing customers to complete the look with product bundles provides a customized experience that illustrates the brand knows the customers while offering a surprise and delight.
No matter what product or service your brand provides, you need to face the fact that you're now talking to a Pampered Consumer. You're dealing with individuals with lofty expectations around customer experience, product attributes and brand values. Ensuring you can deliver on these expectations is where Unbound can provide the outside perspective your brand needs. We bring decades of retail and digital strategy experience that culminates in game-changing strategies and pinpointing your highest-value customers – no matter how pampered they might be.
Sources: Sitecore, Mintel, Dotdigital, Gartner